This article is archived.
The content on this page was relevant to a previous version of Aion, and has since either been removed from the game or never was included in the public version.


Please do not use this article for critical in-game information!

For information on the instance, see Sky Temple Interior.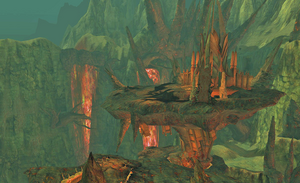 Sky Temple of Arkanis is an ancient temple to the west of the Red Lava Cliff. You are able to fly in this area. The Red Lava Cliff is the only way to get in. There are many aggressive NPCs protecting this area.
NPCs
[
]
Allies
Foes
Barghests
Basilisks
Caryatids
Drakes
Gargoyles
Kalgolems
Mugolems
Obscuras
Spirits
Temptresses
Wildlife
Named