"Azphelumbra, Daeva."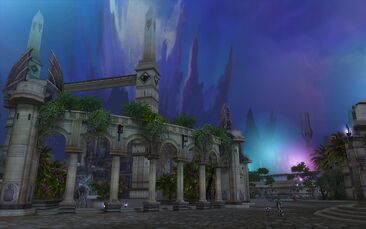 Pandaemonium, the city of darkness, is the capital of the Asmodian faction and is the apex of Asmodian technology, culture and style. Pandaemonium is the center of Asmodian life and as such, all aspects of Asmodian lifestyle can be found there. From the master artisans to the traders and brokers to government officials, all the denizens of Pandaemonium work diligently for the prosperity of Asmodae.
In the 6.0 update the city was cut down to about half of its default size, with many areas becoming inaccessible.
History
[
]
Before Pandaemonium was constructed, humans and daevas lived scattered and endangered. There was nothing to replace the Ancient Capital, Siela. People began questioning how long they could survive until all life in Asmodae would become completely extinct. Lord Asphel had another worry, how long until people become like mere animals? There was no choice. A new capital city needed to be constructed before all hope is lost. After toil and trouble, a new city was made, Pandaemonium. The city would serve as a haven and keystone for the Asmodian people for centuries to come.
Areas
[
]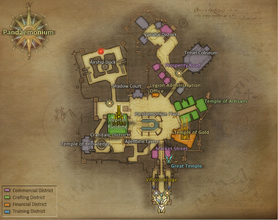 Removed Areas
[
]
Access to these areas was removed as of the 6.0 update.
Guided Tour
[
]
For a tour of the various areas within Pandaemonium city, click here.
Info Board
[
]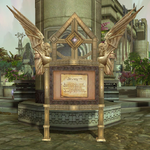 The Info Boards, added in 2.0, are found in various locations around the city. They provide information on Services, and NPC locations which are accessed by clicking on the categories. Clicking on the + symbol will list the NPCs, and clicking on an NPC will open the map with a flashing pink location marker. Right-clicking this marker allows you to place a new pink link into chat to reference NPC locations.
NPC's
[
]
Main article:

List:Pandaemonium NPCs

Also see: Pandaemonium NPCs
Travel Connections
[
]
Teleporter
The Teleporter located south of Vifrost Bridge.
*Note: Prices are an approximate 100% value and may fluctuate based on your servers' Influence Ratio.
Teleport Statues
*Note: Prices are an approximate 100% value and may fluctuate based on your servers' Influence Ratio.
Aerolink
You must attain the Approval of the Shedim Lords to be able to use the Aerolink.
Gallery
[
]
Trivia
[
]
After the invasion on the capital, the fence and fountain in the middle of Pandaemonium Plaza were removed to reflect the changes after the event.