This article is archived.
The content on this page was relevant to a previous version of Aion, and has since either been removed from the game or never was included in the public version.


Please do not use this article for critical in-game information!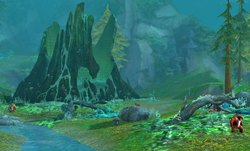 Mosbear Habitat is the breeding grounds for Mosbears, to the north of the Basfelt Hunting Ground.
Named
Object
In the northern part of the area there are two fallen trees in the river forming a triangle. This is a great spot for a ranger to power level (or any other ranged attacker) and/or practice kiting as enemies can only enter the triangle from a small open portion of the right log (facing west from inside the triangle) by the wall. By leading enemies to the triangle and jumping into it over the left log you will force the mob to have to go through the opening to reach you. Once the enemy gets close to the opening, jump back over the left log to force it to have to go back around to reach you. Once it gets close to you, jump back into the triangle forcing it back around. This method will work so long as you are using ranged means of attacking an enemy. By doing this, it is possible to kill enemies in the area with levels much higher than yours.
Community content is available under
CC-BY-SA
unless otherwise noted.