This article is archived.
The content on this page was relevant to a previous version of Aion, and has since either been removed from the game or never was included in the public version.
Please do not use this article for critical in-game information!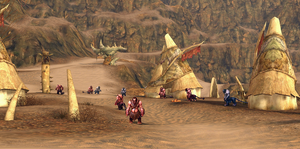 Kentari Village is a village populated by half-Human beasts to the north of the Salintus Desert. This is a good questing area for level 26 to 33 level players. There are no services here.
Foes
Named