Note: The following article is outdated. For the page updated to the latest version of the game, visit Stigma Stones.
Greater Stigma Stones are powerful stigmas that hold unique skills. In order to use Greater Stigma Stones, a player must have the prerequisite stigma stones equipped. These stones must be purchased with Abyss Points from Contribution Merchants.
Stigma Tree
Edit
The stigma tree can be found by opening the Profile tab (default 'P') and clicking on the Greater Stigma button in the Stigma tab. The stigma tree shows which stigmas are needed as prerequisites for Greater Stigmas.
Unlocking Greater Stigma Slots
Edit
Greater Stigma Slots become available at level 45. Players must complete quests in order to unlock them. All quests require the collection of quest items and typically require entrance into instances or areas requiring a group. Two slots are available at level 45 and one each at levels 50, 52 and 55. Normal Stigma Stones can be placed in Greater Stigma Slots, but Greater Stigma Stones can only be placed in Greater Stigma slots.
Asmodian Quests
Elyos Quests
Alternatively, for the Level 45 and 50 quests, players can collect <Groggie> with daily quests and exchange them for the required items to complete the quests.

<Flower Power> [p45] (Asmodian) or

The Sanctum Shulackwalk [?] (Elyos) reward 20 Groggies for completion. It is possible to complete these stigma quests without going into any instances.
Greater Stigma Merchants
Edit
Greater stigmas are not purchased from the Stigma Tuners like normal stigmas are. Instead, players much purchase greater stigmas with AP.
Asmodian
Elyos
Stigma costs in AP by level and rarity

Superior

Heroic

Fabled

Level
Cost
Level
Cost
Level
Cost
45
13,750
50
38,700
55
152,700
48
26,500
52
78,800
---
51
34,500
53
85,800
---
54
45,700
55
101,800
---
Equipping Greater Stigmas
Edit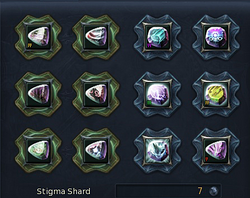 Greater Stigmas are equipped in the same manner as normal ones are. The only differences is that Greater Stigmas must be placed in one of the 6 slots to the right of the Stigma panel and that all prerequisite stigmas must be slotted first. (It is possible to slot a regular stigma into any of these slots.)
Removal of stigmas that are prerequisites for Greater Stigmas require the removal of the Greater Stigma first. If a player attempts to remove a prerequisite stigma before removing the stigma that depends on it, a system message appears on screen and in the chat log explaining why it can't be removed.

More information about equipping and removing stigmas can be found on the Stigma Stone page.
Community content is available under
CC-BY-SA
unless otherwise noted.