Farmer Havenjark is the owner of Havenjark Farm and does not like trespassers. He is very fast.
Location
Edit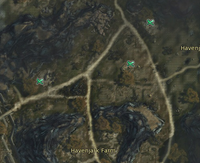 Unique Drops
Edit
Farmer Havenjark has a very fast run speed with a large aggro. He is almost impossible to outrun.
Destruction of Life will transform the player into a farmer, during which time attacks are not possible.
Upon death, Havenjark spawns about five clodworms which aggro immediately.
External Links
Edit