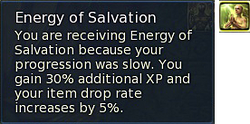 Energy of Salvation is an automatic buff that occurs when players have a slow XP gain over a period of time. The buff increases all XP gained by 30% and the item drop rate by 5%.
It is possible to have both Energy of Repose and Energy of Salvation at the same time.
Community content is available under
CC-BY-SA
unless otherwise noted.