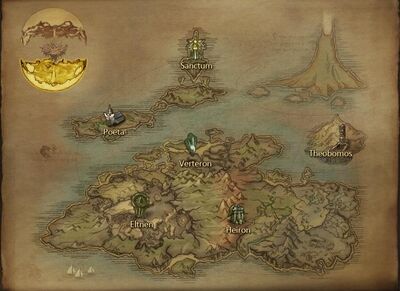 Elysea is the kingdom of the Elyos. It is located in the lower hemi-shell of Atreia and is bathed in light.
Elyos
[
]
The radiant light that surrounds Elysea has caused the Elyos to become more vibrant and beautiful, becoming almost angelic in their appearances. For this reason, the Elyos consider themselves the chosen of Aion, and believe that their mission to make peace with the Balaur was a divine one that they were right in making. For this reason, the Elyos have become slightly arrogant in their view of the world. However, despite this arrogance, they still have compassion for others, although they show no mercy towards the Asmodians.
Lore
[
]
The capital of Elysea is the Sanctum. Elysea is ruled by Lady Ariel, the Arch Seraphim. Four other Seraphims exist, although it is currently not know whether they hold any political or military power.
Sanctum was nothing but land originally came from the ground of Atreia, before The Cataclysm, Eltnen City was home to the Humans and Daevas alike, but during The Millenia War, the Great City of Eltnen was no longer standing, it was vulnerable to the Balaur for it was outside the Aether Field that kept Balaur away from the Tower of Eternity. Before the Abyss War, Lady Ariel and the other Seraphim Lords came down to Elysea and with their divine powers, raised a land from the ground, with the help of legions of Daevas, there they made the sun-well land city named Sanctum, a place of Sanctuary from the world below. It was forbidden to let any humans in Sanctum, it was made for the Empyrean Lords and all Daevas. When days past on before The Abyss War, Sanctum was repopulated with millions of Daevas thus resolves Sanctum as Capital of Elysea
Regions in Elysea
[
]