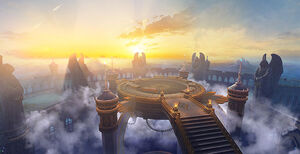 Crucible Spire, also known as Tower of Challenge, is a solo instance for players of level 76 and above, introduced in the 5.6 patch. In this instance the player aspires to reach the top of a tower consisting of 24 floors, with each floor having its own set of enemies, challenges, and rewards. It was created by Lord Kaisinel/Marchutan to find capable Daevas who could aid in the fight against Ereshkigal.
The instance automatically becomes accessible as soon as the players hits level 76. The entrance can be found in the Kaisinel Academy (Elyos) and Marchutan Priory (Asmodian).
The first time players enter the Spire they automatically start at Floor 1. The goal is to clear each floor to advance to the next until they reach the top (Floor 24) before dying or running out of time (20 minutes), in which case they are thrown out of the instance.
The spire is divided into twenty-four floors. Some floors can be skipped entirely (denoted with red borders).
This section is not complete. You can help by adding to it.
<

Blackheart Rasberg's

Blackheart Rasberg

>

attack skill

<Breathtaking Pierce>

has a different animation from others; bats will appear once it is released.
 

<

Crucible Spire's Hero Illusion Godstone Box

>

from the final floor would originally give out unique Godstones with other altered states never used before by these stones. This was scrapped and swapped with strengthened versions of already existing Godstones.
The instance originally featured 4-floor long sections instead of 2 floors per section. They were kept after 5.8, but some floors were replaced by new sections.
In 6.0 the amount of floors was reduced to 24, and a time limit was introduced.
Instances
Leveling Instances (1-75)

Solo
Group
Event Instances

Event instances
Luna instances
Community content is available under
CC-BY-SA
unless otherwise noted.