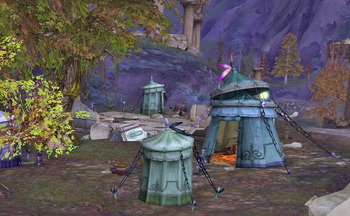 Aldelle Village is the main town in Ishalgen and is the first place of any real size that new Asmodian characters find on their journeys in this area. It is a small village below Aldelle Hill. It is the current base camp of the Ulgorn Raiders. This village offers a number of Skill Trainers and merchants, and a cube artisan who can help you expand your cube.
Guards
Inhabitants
Merchants
Services
Skill trainers
Wildlife
Travel Connections
Edit
Teleporter
Flight transporter
*Note: Teleport and Flight Transporter prices are an approximate 100% value and may fluctuate based on your servers' Influence Ratio.
Community content is available under
CC-BY-SA
unless otherwise noted.